Working from home has become the new norm — whether we like it or not. Yet, many homes aren't necessarily set up for extended durations of work.
Perhaps you've only recently begun to put together a home office with a sizable desk and a more comfortable office chair (good riddance to that hard kitchen chair!). However, you're still experiencing aches and pains.
Ever heard of ergonomics?
If not, this article will open your eyes to proper ergonomics and how you can set up your home office for success. There's nothing worse than ending a long day of work to only be met with pain. This is exactly where ergonomics comes into play. Now, let's dive straight in!
What Does 'Ergonomics' Mean?
The Merriam-Webster Dictionary defines 'ergonomics' as "an applied science concerned with designing and arranging things people use so that the people and things interact most efficiently and safely."
In other words, ergonomics is the reason office chairs are made the way they are (most of the time!). Ergonomics is also why you're able to adjust your car seat to a specific and comfortable position that makes driving easy. There are countless examples of it intertwined in our daily lives.
Yet, as we steam roll our way through the first part of the 21st century, a large majority of ergonomics focuses on making working at a desk easier on the body.
Undeniably, long-term sedentary behaviour comes with various health risks. In fact, researchers indicate that sedentary behaviour is associated with increased cardiovascular issues and all-cause mortality.
While ergonomics won't necessarily directly prevent heart disease or other illnesses, it can help reduce discomforts and pain that arise after sitting for long durations. In turn, this may reduce your risk of developing chronic pain or recurring injuries that get in the way of you moving your body or enjoying your life.
Improve Ergonomics While Working From Home
So, what are the basics of office ergonomics? Where can you improve?
Proper Ergonomic Guidelines
How you set up your office space significantly impacts your risk of injury and pain. Below, we offer general guidelines to help you set up your office appropriately, so that your body experiences as little stress or strain as possible.
Workspace Set-Up
Ideally, you don't want to be working on solely a laptop for 40 hours a week. If you're stuck with a laptop, we recommend getting a separate keyboard, mouse, and laptop stand so that you can set your workspace up in the most optimal way.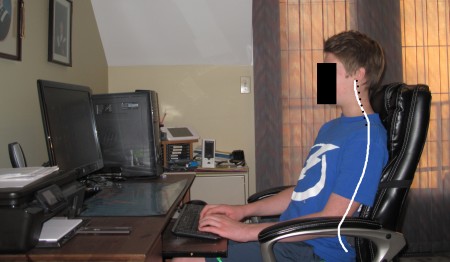 From there, your workspace should include the following:
Your monitor or laptop screen should sit at eye level. You shouldn't have to crane your neck down or forward to view your screen.
Your mouse and keyboard should be within easy reach. You'll want to ensure your keyboard is positioned so that your wrists and forearms are able to maintain a straight line (sometimes a wrist pad can help with this!). Meanwhile, the mouse should be close enough that you don't have to bend your elbow or arm out far from your body or at an awkward angle.
Your chair should have arm rests and support proper posture. If possible, a lumbar support can help ease lower back pain (even a rolled up towel on your low back can act as one here). As you sit in your chair, you should be able to plant your feet flat on the ground, with your knees at a 90-degree angle.
When it comes to your work surface or desk, you'll want to make sure it's at the same level as your elbow (remember, your forearm and wrist should be able to maintain a straight line). This also helps prevent shoulder strain or tension in the upper back.
Work From Home Ergonomic Tips
So, you've got the basic set-up downpat — now what?
We're not stopping there! Here are a few more tips to help ensure you don't face pain or discomforts throughout your busy workday:
Look away from the screen every 20 minutes for 20 seconds to reduce eye strain.
Avoid working from your couch or bed. Instead, have a designated work space, such as a desk in a spare room or an area at the kitchen table.
Take frequent breaks. If possible, move every 20 minutes or every hour. Get up, walk around, stretch.
Ensure you have adequate lighting. Ideally, natural lighting is preferred. At the same time, you don't want to have natural light shining directly on your screen, making it difficult to see. To avoid this, place your screen perpendicular to the window. This will help avoid that unwanted glare!
Uncomfortable? Invest in an ergonomically-designed office chair. Purchase that wrist rest pad or laptop stand. Actively find ways you can improve your set-up. This will prevent pain in your future!
Ergonomics While Working From Home: Helping You Work and Avoid Aches & Pains
Many of us can't change the fact that our jobs require us to sit for hours on end each day. However, you do have control over your office set-up and how or where you choose to sit each day. Knowledge is power, so take the knowledge you've learned about ergonomics and apply it to your life today!
Are you already experiencing pain? At Corydon Physiotherapy, we can help. Our team of experienced and friendly physiotherapists can get to the bottom of your pain and help reduce it. Book your appointment today by calling us at 204-900-8250. Work with ease and without pain holding your productivity and performance back!